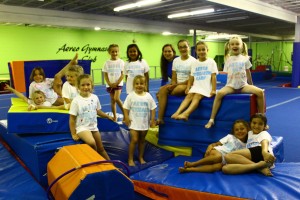 Aereo Gymnastics Club offers Summer, Winter and March Break Camps for children ages 4+ years. Campers stay in the gym from 9am-4pm and do a wide variety of activities from gymnastics to arts and crafts. Campers get the full gymnastics experience as they participate in a full body warm up and 45 minutes on each of the 4 gymnastics events. Campers have break times throughout the day as well for snacks and lunch time where they will sit, relax and watch a movie. In the afternoon campers will participate in some running games and conditioning exercises. Campers who are also current Aereo gymnasts working on their CANGYM badges are encouraged to bring in their latest progress reports as Camp is a great time to work on those skills with our coaching staff.
For further Camp information please see the links below:
Receive 10% off your Spring Registration when you sign up for Camp!