OCP/Competitive Team
For gymnasts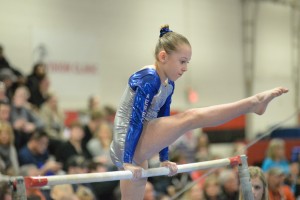 ages 7 years +. Our Competitive gymnasts range in both age and level. Competitive gymnasts must be at least 7 years old to begin the OCP (Ontario Competitive Program) which offers competitive gymnasts from Levels 1 – 10. Competitive gymnasts train a minimum of 8 hours per week (2 nights for 4 hours) and a maximum of 20 hours per week depending on age and level. Aereo's Competitive Program requires a great commitment from both the gymnast and the parents. Competitive gymnastics not only requires gymnasts to be strong physically but mentally as well. The 4 hour long practices include an hour long warm up made up of endurance training, core development, full body conditioning circuits and flexibility. Competitive gymnasts train 40 minutes on each of the 4 events during their practice and have a 20 minute break.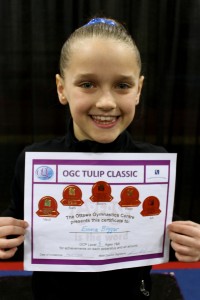 Competitive gymnasts must compete in a minimum of 3 of the offered Competitions each season. Competitions are held between January and June each year. Gymnasts ages 7 and 8 years old are not ranked among their competitors at Competition and scores are not posted. Instead Gymnastics Ontario has developed a system where each gymnast is awarded a certificate with seals (Gold, Silver, Bronze and Merit) for each event score and their All Around score.
Gymnasts ages 9+ years will be ranked among the other competitors in their level and awarded medals and ribbons for their scores on each of the 4 events as well as their All Around score. Age 9+ categories at many competitions will also award special recognition awards to gymnasts for outstanding performances on each event.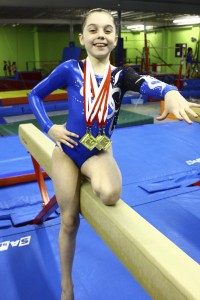 Competitive gymnastics not only offers girls a great way to be competitive while staying active and fit, it helps develop strong characteristics and habits. Our competitive gymnasts show great success in the class
room and outside of the gym. Busy training schedules and performing under pressure help young girls develop confidence, time management, perseverance and how to handle success/failure. At Aereo we strive to focus on more than just the gymnast we are helping create and make it important to mould strong young girls.
Competitive gymnasts ages 9+ also have the option of competing at more than just an Invitational level. Gymnastics Ontario has introduced a qualifying system for Level 3-5 gymnasts to strive for qualification to the Compulsory Level Provincial Ontario Championships held at the end of each season. These gymnasts will use their best 2 All Around scores from no more than 3 competitions between January and May to be ranked among all other competitors in their category in the province. Gymnasts whose scores rank them in the top 60% of their category will advance to the Level 3-5 Compulsory Championships.
Competitive level assessments are generally done each year in June and new members are added in July. Competitive gymnastics requires a year long commitment.
If you are interested in having your daughter assessed for our Competitive Team please speak with your daughter's coach or email us for scheduling.