Two of our Provincial gymnasts, Ava Arsenault and Faith Ruber, have secured their spots to compete at the 2016 Ontario Provincial Championships this April. The top 32 gymnasts in each category advance to this competition.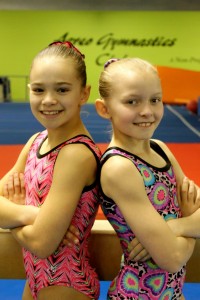 Ava, age 10, will be attending her second Provincial Championships. Last season Ava qualified 6th in Ontario following the qualifiers to advance to Provincial Championships in the Level 6 age 9 category. Ava finished 6th on Bars and was awarded the "Mastery of Artistry" Judges award for her performance on Floor. After competing very well at her 3 Provincial Qualifiers, she finished with an average of 36.788 to secure the 31st spot in a highly competitive category of 65 gymnasts. Ava will be one of the 11 gymnasts who are just 10 years old competing in a category of 10&11 year old competitors in Level 7.
Faith, age 11, will be attending her third Provincial Championships. In 2014 Faith finished 6th on Bars at Provincials as a Level 5, 9 year old – and last season came 7th on Floor in the Level 6 age 10 category. Faith moved up to Level 8 this season and after strong performances at her 3 Qualifiers finished 18th with an average of 35.275 in a category of 31 gymnasts.
Both girls have set goals for their performance at Championships and are excited for the opportunity and the challenge of competing amongst the best in the province.