Ontario Provincial Championships 2017
This past weekend in Toronto, Aereo was represented at the Ontario Provincial Championships by 4 gymnasts. Ava Savio, Faith Ruber, Emma Biggar and Ava Arsenault competed amongst the top 32 gymnasts in the province in their respective categories.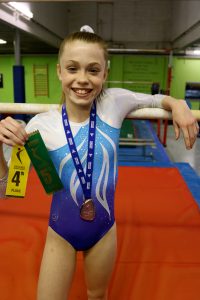 Ava Savio had earned a birth to Provincials for the first time this season. Her determination and drive to qualify wasn't halted when she broke a bone in her foot in early December. Ava had an outstanding performance on all 4 events Saturday to finish 4th All Around in the Level 6 age 14 category with a total score of 37.315. Her bar routine earned her Aereo's first Provincial Medal since 2010 where she was awarded the Bronze medal, along with the prestigious Judges Award for High Flying Dismount. Ava also had a podium finish on Vault where she was 5th with a score of 9.516, narrowly missed the podium on Floor finishing 9th with a 9.333, and was 14th on Beam with a 9.250.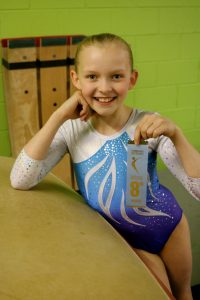 Faith Ruber attended her fourth Provincial Championships this weekend where she competed in the Level 7 age 13 category. Faith started off her competition strong on Bars where she placed 10th with a score of 9.266. A fall on beam didn't stop her from performing well on Floor where she was 15th with a 9.300. Faith's highlight of the day came on Vault where she finished on the podium in 8th place with a score of 9.133.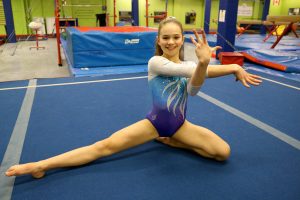 Ava Arsenault attended her third Provincial Championships this weekend competing in the Level 7 age 11/12 category. She had an unfortunate fall off beam to start her competition, but didn't let that stop her from enjoying every moment of competing on the Provincial stage. She went on to perform a beautiful floor routine that earned her a 9.483 where she finished 10th. Ava was also 16th on Vault with a 9.266 and 14th on Bars with a 9.216.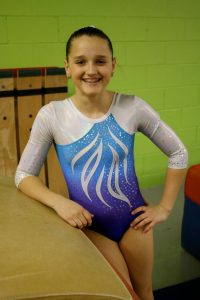 Emma Biggar attended her second Provincial Championships this weekend where she competed as a Level 6 age 12 gymnast. Emma had consistent and competitive scores on all four events earning her a solid 37.382 and a 12th place All Around finish in her division. Emma just missed the podium on 2 events finishing 9th on Vault with a 9.450 and 9th on Beam with a 9.333. Emma's Floor routine earned her a 9.333 where she was 11th, and her Bar score of 9.266 also had her finish 11th on the event.
We are very pleased and proud of the girls results and look forward to post season training where they will set goals to make improvements or upgrades and have their sights set on qualifying once again to the Provincial Championships in 2018. Congratulations girls on a wonderful season of success and development.
Savio Captures Provincial Bronze Medal