During the June 2-4 weekend Aereo had 13 gymnasts compete at the Level 3-5 Provincial Championships in London, ON. Going in to Championships the girls had their sights set high on showing their best gymnastics and hitting strong routines. At Championships the gymnasts compete in categories of 40 and only the top 8 scores are awarded on the podium; our 13 gymnasts made it to the podium 43 times!!! Aereo took home 5 All Around Medals, 5 All Around ribbons, 13 event medals and 19 event ribbons. We are beyond proud of the hard work, commitment and success our girls had this season and we can't wait for summer training and the next year and new levels to come!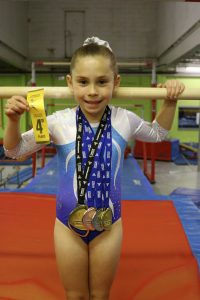 Our first flight of the weekend was our Level 3 age 9 gymnasts who were all competing at their first Provincial Championships. The girls started the competition on Vault where they all had a very strong showing, teammates Isabelle and Shania took home the Bronze for their dynamic vaults, teammate Peyton joined them on the podium with an 8th place finish.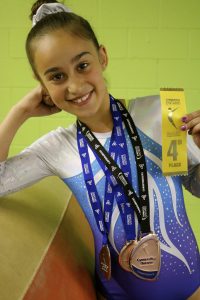 Moving to Bars Isabelle posted a season on high score of 9.683 to capture the Gold medal, followed by teammate Shania who also hit a season high score of 9.616 to take home the Silver. On to Beam, Isabelle posted a 9.516 to take home the silver, Shania was 4th with a 9.483 and Peyton was 6th with a score of 9.366. Peyton was the top finisher on Floor bringing home the Silver medal with a 9.450. She was joined on the podium by Isabelle who was 4th.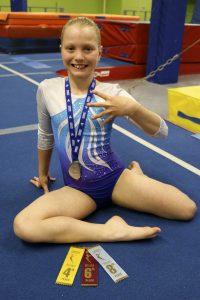 Isabelle was named the All Around Provincial Champion and awarded the Gold medal, Shania was awarded the Bronze and Peyton was awarded 4th. Next up was our second group of Level 3 age 9 gymnasts. Starting on Vault Alexis posted a score of 9.466 to finish 5th on the podium. Moving to Bars all 3 of our girls finished on the podium.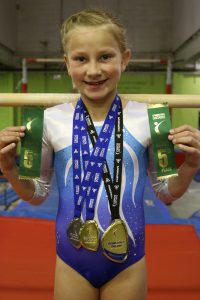 Alexis was the Bar Champions posting a season high of 9.833, Shyanne finished 6th with a 9.533 and Camryn was 8th with a 9.433.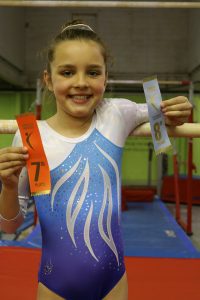 All 3 girls hit great Beam routines, Aleixs was awarded the Silver for her 9.400 and Camryn joined her on the podium in 7th with a 9.200. Alexis finished 5th on Floor with a 9.400, and was named the All Around Provincial Champion winning the Gold medal.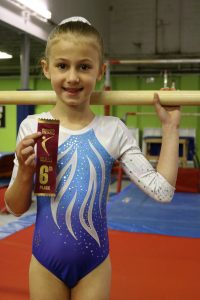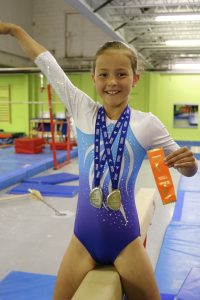 Our Level 3 age 10 gymnasts were up next and had a great showing. Ashley started off on Bars where she placed 5th with a 9.483. She hit a solid Beam set to capture the Bronze medal with a 9.433. Her Floor routine was awarded 5th place with a score of 9.416 and she finished with a big 9.700 on Vault where she placed 4th. Ashley was awarded the Silver medal in the All Around. Makayla, also a Level 3 age 10 gymnast was named the Provincial Champion on Bars for her beautiful routine with a score of 9.650. Next won the Silver medal on Beam where she scored a 9.466. Makayla's All Around score brought her back to the podium where she finished 7th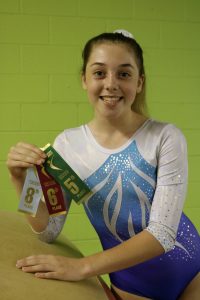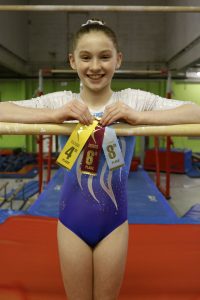 On day two of Championships we had our 13 year old Level 4s take the stage. Sydney began her competition on Beam with a great routine where she posted a 9.316 to finish 8th on the podium. She narrowly missed the podium on floor where she scored a career high of 9.250. Sydney was back on the podium on Vault where her 9.166 placed her 5th. She was awarded 6th in the All Around for her solid competition. Laura – also Level 4 age 13 was next up and started the meet of strong with a solid Beam routine where she scored 9.283 to finish 4th on the podium. Laura also just missed the podium on Floor with her career high score of 9.283. She finished her competition on Bars with a great 9.450 placing 6th. Laura scores has her finish on the podium All Around placing 8th.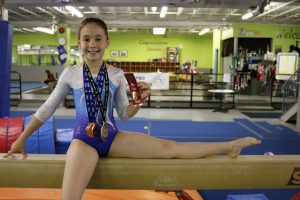 The final day of Championships was our Level 4 age 10 and 11 gymnasts. Ava was our top finisher capturing the Silver medal in the All Around. Her day started off strong with a Floor routine to score 9.366 and finish 6th on the podium. Ava earned the Bronze medal on Vault with a 9.450, narrowly missed the Bar podium with a 9.283 and won the Bronze again on Beam with a season high of 9.700.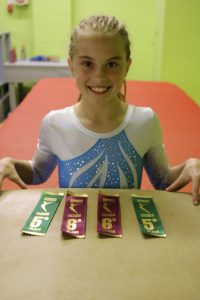 Sarah – also Level 4 age 10 – posted career high scores on Vault, Bars and Floor. Sarah S was 5th on Bars with a 9.650, 6th on Beam with a 9.416 and 5th on Floor with a 9.183. Sarah S was back on the podium on Bars finishing 6th All Around. Our final competitor of Provincials was Sarah M in Level 4 age 11. Sarah M scored her career high score on Vault with a 9.250 and finished with a strong All Around score of 36.716 in a competitive field where she finished 13th in the All Around.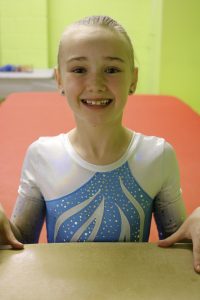 Henson and Huneault Win Provincial All Around GOLD